You might have heard of the study where 93% of US car drivers estimated that they had above-average car driving skills (Svenson, 1981). Naturally, we would expect that only 50% of the drivers actually had above-average skills. So there must be a huge gap between how people evaluate their own skill, and how their skills would be evaluated by others. This happens in many domains, not just car driving. Might it also happen in tango?
It is called the Dunning-Kruger effect, named after the researchers at Cornell University who published a famous paper on the topic (Kruger & Dunning, 1999). The name is almost harder to remember than the description of the effect:
"Incompetent people tend to over-estimate their own ability, while highly competent people tend to under-estimate their own ability."
So in tango, unskilled dancers might often believe that they are much better dancers than they really are. But don't we all believe that we are better than everybody else? No, according to what Dunning & Kruger found, we all just believe we are better than the average guy.
The Dunning-Kruger effect is often misunderstood: it does not state that everybody believes they are better than they actually are, or better than everybody else, for that matter. Look at the graph below from the original paper.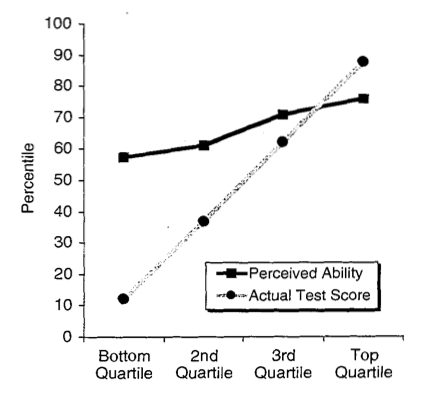 See how the left-most group got a really low test score (the round dot), but somehow still believed that they were slightly above average (the square marker)? Now look at the right-most group: they got fantastic scores on the test, but rated themselves lower than that. They still knew they were more skilled than the other groups, but they under-estimated how much better they actually were.
So, provided that these results are also valid in tango, we would expect that highly skilled dancers know that they are more skilled than most, but they do not understand just how good they really are.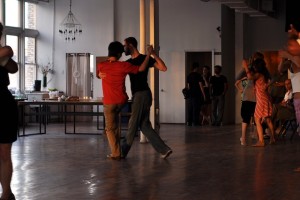 The Dunning-Kruger effect makes you over-estimate your own ability only when you are unskilled at something, which means that as you improve your skills, you will also gain a more accurate notion about what skill means and how good you are yourself. Then, as you approach real mastery, the effect will actually be the opposite – since tango is easy for you, you will assume that it is easy for the rest of the crowd as well.
Now, that brings us to an interesting challenge for tango teachers. Many of them are naturally in the top quartile, so what if they do not really understand just how difficult tango is for their students?
For the not-as-skilled social dancers, the challenge will be a different one: the effect might cause frustration, e.g. if they go to a high-level dancing event, say El Yeite in Buenos Aires, since they will tend to think that they are at par with the general level of the place, but people are perhaps still reluctant to dance with them – which is then easily taken more personally.
On a deeper level, we can speculate about why our minds are twisted in this way. My guess is that the Dunning-Kruger effect is there to help us keep up the spirit when learning new things, rather than just giving up after the first attempt.
If tango beginners truly understood how little they learned after one class, would they at all feel like making the necessary investment for getting up to the general level of the community?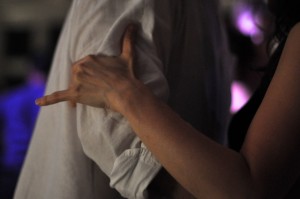 Of course, after just a few classes, they are usually already much better tango dancers than most of the people who never took a class, and they will quickly achieve a level where many experienced dancers will enjoy dancing with them at milongas. It is just that most dimensions of the dance, beyond "taking a few steps without crushing someone's foot", will remain hidden from them for a while.
When you look at yourself in the mirror, are you blissfully boosting your tango skills above your actual level? No? Well, I didn't think so: this is all based on statistics, so you may very well be the odd exception, but still, isn't it a fun fact to know that most of your dancing friends are hopelessly unable to accurately assess their own tango skills? 😉
References:
Kruger, Justin & Dunning, David, 1999, Unskilled and Unaware of It: How Difficulties in Recognizing One's Own Incompetence Lead to Inflated Self-Assessments, Journal of Personality and Social Psychology, vol. 77, no. 6, pp. 1121-1134
Svenson, Ola, 1981, Are we all less risky and more skillful than our fellow drivers?, Acta Psychologica 47, pp. 143-148