This is information that might be useful for anyone travelling to Buenos Aires for tango. I spent six months there until February 2012. There's a lot going on in the big city, so some of the information might already be outdated, but this post can definitely serve well as a general overview. It is divided into three parts:
Tango (this page)
What to expect
Expect to meet tango dancers from all over the world who are traveling to Buenos Aires just like you.
Expect a good level of dancers – apart from the locals there will be lots of visiting tango teachers on their yearly pilgrimage.
Unless you are an exceptional dancer or breathtakingly beautiful, don't expect to dance a lot with locals for the first few weeks. They already have lots of dance partners and sometimes are hesitant to invest in relations with tourists who will just stay for a brief period of time.
If you are a young beautiful woman, expect a lot of attention, especially out in the streets where men will constantly approach you to praise your beauty, unless you are walking with a man by your side.
Expect more dancers in less space. The floor-craft is somewhat adapted to the situation, but still expect dancers bumping into you quite often, depending on which milongas you attend.
My impression is that there are lots of really skilled leaders in Buenos Aires, perhaps more so than followers. So leaders, expect that it might take a little time to get into the game. Both leaders and followers who are visiting might get the impression that they don't get to dance with as skilled partners as they do at home. This may be partly true, since the good dancers don't know you yet. But it may partly be that other qualities of a dancer is appreciated here than in your home country.
Expect traditional tango music only at most milongas, as this is what is played, unless you go to a specifically alternative place. DJ:s are not very creative, so you may hear basically the same playlist every week at a milonga, but it is generally good stuff.
Concerts
Look out for free concerts! There is a lot of those if you find a way to keep yourself informed. Get to know a musician!
Orquesta Victoria played at Café Vinilo every Monday when I was in town – really nice concert and nice atmosphere. It is a milonga, but few dancers go there (and the floor is very hard). Nice place to go for a tango introduction if you have non-tango friends visiting, since there is a tango class before the concert.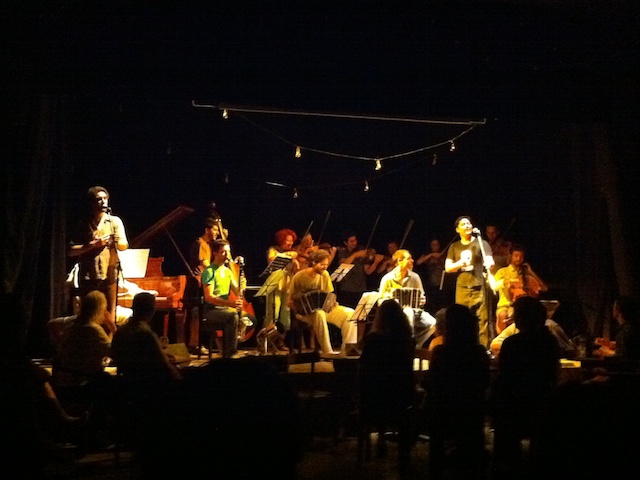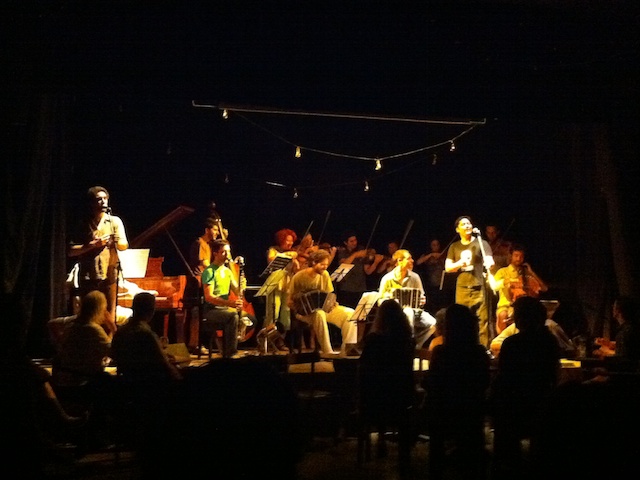 Orquesta Típica Fernandez Fierro gives a weekly heavy tango experience at their own place, Club Atlético Fernandez Fierro. Well worth a visit – book in advance.
Alberto Podestá gives performances every now and then. This legendary singer might not have a lot of voice left, but his audiences are still spell-bound.
Privates, Group Classes, Learning
If you don't have much time in Buenos Aires but can afford privates – go for it! It is a great way to develop your tango.
Good privates can cost anything from 200-600 ARS if you are a tourist. 300-350 ARS was standard for many famous teachers when I was there. You can negotiate discounts if you take more classes or if the teacher likes you.
If you have several weeks, take perhaps a group class first with teachers to see if you like them.
Spending lots of time in classes is a much safer option than going to milongas if you want to improve your tango a lot. You may or may not dance a lot in milongas, but you are sure to be dancing in class.
Milongas and Practicas
Remember that milongas can be very different for different nights of the week even though it's the same place. A certain crowd may only attend a certain night of the week, depending on the organizer. A milonga can actually be held at different locations on different nights, or move altogether from one place to another.
Here are short comments on some of the milongas and practicas that I attended, ordered by how important they were for me personally. The list is by no means complete.
Milonga 10 was at Club Fúlgor, Loyola 828 on Tuesdays and Saturdays, and this was perhaps the one milonga I attended the most. Young crowd, nice shows, quite wild dance floor with lots of big moves, but generally good dancers so the floor craft was decent. Easy to invite people either by cabeceo or verbally.
La Maleva has a Friday practica and after-party with a relaxed atmosphere, especially considering the high caliber dancers you meet there.
El Yeite is at the top floor of a salsa club and this is where the best young dancers go. Some dancers feel it is too elitist, but as long as you go with some people you like dancing with you'll have a great night until sunrise. Great wooden floor, sometimes very hot due to bad air conditioning, party mood with long cortinas of rock, pop and cumbia (but the tango itself will be traditional).
El Motivo, Mondays at Villa Malcolm, was very successful and the first choice for shows with the big stars. Great for talking to people and meet friend of friends, but the dancing is often fraught with peril at a crowded floor with all kinds of dancers. Apparently the stand-in organizers who made it really popular left and created a new milonga on Sundays in the same room, called Viva La Pépa. I suppose the crowd will go there instead, possibly giving the Mondays at Canning a renaissance?
El Beso was closed down after I left Buenos Aires, but I heard it's coming back. Here you will find one of the few good wooden floors in the city, and I very much enjoyed the traditional atmosphere on Wednesdays and Sundays here. There's separate seating for men and women, invitation is by cabeceo, and this is a good place for dressing up. It is also a good idea to call and book a table if you want a nice seating for inviting people to dance.
Tangocool, Thursdays at Villa Malcolm, pretty nice for dancing early on, before El Yeite later on Thursdays.
La Viruta is the place where you are likely to end up in the late hours quite often. Open most days of the week, La Viruta offers classes in tango and classic rock at many levels if you want to come early (great place to recommend for complete beginners if you get visits), but the best tango dancers arrive once the entrance is free, at 3.30am Fridays, Saturdays, and special occasions, 1.30am other days. When the medialunas arrive at 4.30 you'll need to act fast to get breakfast while they are still fresh.
En Orsay on Thursdays has live music and attracts perhaps more musicians than dancers, so bring some dancer friends. Very casual and with a bit of an underground feeling.
La María is a nice afternoon practice for changing roles, where you also can have a cup of mate.
El Gardel de Medellín has live music and great performances. The location is a bit off, but it's worth a visit.
Fruto Dulce, a bit more formal with nice dancers, where it also may be harder to invite partners.
Paracultural has a Tuesday milonga at Salón Canning, which is one of the few venues that is really made for dancing with a great wooden floor and lots of room for seating around it. I mostly went to see some live orchestras or late at night when it's free (I think after 3am). Also, i sometimes lingered there after Julio Balmaceda's classes if there was someone I especially wanted to dance with.
La Milonga De Las Flores was apparently the place where "everyone" went before El Motivo became so successful. A bit further out from the usual places though, and you might want to go there with a group of friends since it appeared to have very uneven attendance from week to week.
La Milonga Del Bonzo is a post-concert milonga at Café Vinílo. Very nice room, but stone hard floor. Only go for (seated) concerts, but bring your shoes if you happen to feel like staying for some dancing.
Cachirulo, which recently moved to Villa Malcolm for their Saturday milonga, is one of the really traditional milongas, where they ask arriving couples whether they would like to be seated together or split up for the seating where men are lined up at one side of the floor, women at the opposite side. I also heard that traditional etiquette is forcefully upheld, e.g. that someone who invited a woman to dance but did not finish the full tanda was asked to leave by the organizer. At one occasion when my partner and I stayed on the floor too long into the cortina, people started to throw things at us to clear the floor so we wouldn't obstruct the view for cabeceos.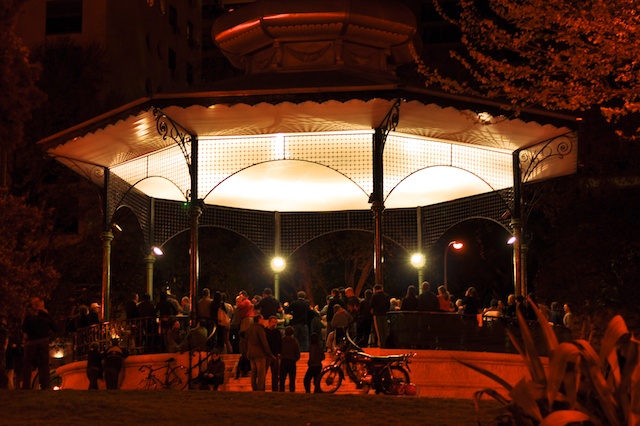 Folklore dances
You will see folklore dances at La Viruta around breakfast time, but for a great authentic experience, go out to Peña de la Ribera for a Saturday evening with live bands and easy-to-join dancing under the stars. 
Chacarera is good to know since it is played as a dancing interruption at milongas all over the world. Take a class if you have the opportunity.
Note that classes in folklore may be very different from tango classes. You may not meet academics only here – it is a different crowd, the tempo will be different, the questions people ask will be different. Enjoy the difference!
Escondido, gato, etc. are other dances where the same elements as in chacarera are used, just in a different order. Look at the person next to you and try to hang on.
Argentine zamba is a beautiful dance where you circle around your partner in an intricate pattern at the same time as you are waving a handkerchief. The songs are folklore ballads.