This is information that might be useful for anyone travelling to Buenos Aires for tango. I spent six months there until February 2012. There's a lot going on in the big city, so some of the information might already be outdated, but this post can definitely serve well as a general overview. It is divided into three parts:
Food (this page)
Food and drink
You cannot always find open restaurants at any time of the day. They are open for lunch around 11am-3pm, then siesta until dinner, which could be at 7pm-12am but sometimes they open later. Restaurants may also be closed e.g. on Mondays.
Organic food
There is a nice organic cooperative market in Palermo Hollywood at Bonpland between Gorriti and Cabrera. Open a couple of days a week, I think Tuesday and Friday.
La Esquina De Las Flores is an organic restaurant that also sells grains, nuts, bread and take away food. Their empanadas are very different from what you usually get and well worth a try.
Natural Deli is a pricy chain that offers good quality organic groceries, food and fresh fruit juices.
Vegetarian restaurants
Artemisia is pure bliss, whether you go for lunch in Palermo Hollywood (don't miss the lemonade) or for dinner in Palermo Viejo. Excellent vegetarian fine dining to very reasonable prices.
Al Hambra has great falafels, hummus and tabouli.
Krishna by Plaza Palermo Viejo has yummy thalis and other vegetarian dishes with a touch of India. The ginger lemonade is good – ask for half a caraffe if you are on your own.
Baraka in Palermo Soho is not all vegetarian but has some real gems on the menu, e.g. a beetroot salad or quinoa with caramelised carrots. Also very nice lemonades.
Buena Onda is one of several veggie lunch restaurants. Quality may vary, but having the buffet is usually good value for the money.
Around the corner from El Beso, there is a place for vegetarian buffet, both for lunch and dinner. Good value for the money.
Casa Félix is one of the hyped closed-door restaurants, where you are invited into a home-like environment to have a fixed menu, perhaps sharing a table with other fine dining enthusiasts. Casa Félix has a vegetarian option. The food is delicious, including herbs from the garden. Prices are higher than average, but for a special occasion I would not hesitate to go back.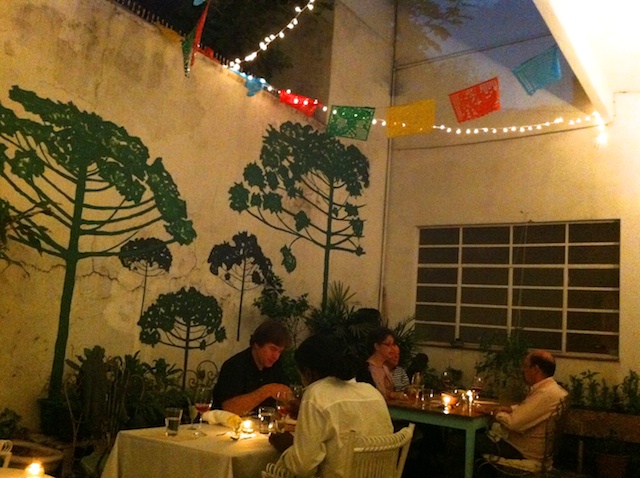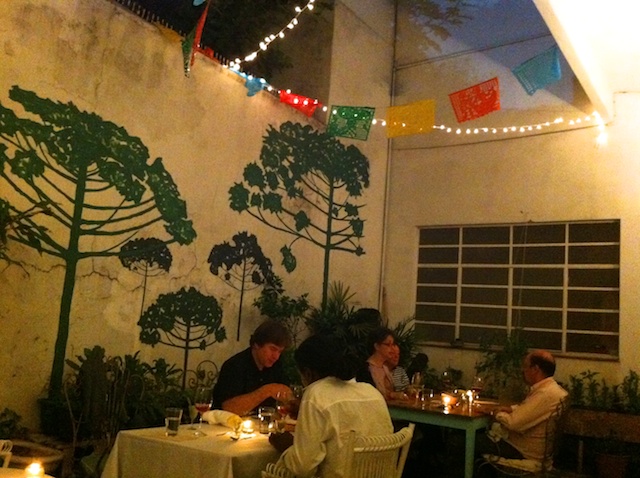 Tucumanisima makes very nice empanadas, given that it is a fast-food chain. The vegetarian empanadas are all good. The track record for misunderstood orders is so bad, though, that I always check what I actually got before I pay. Ask again if they are all vegetarian, or you might end up with a bunch of carne suave instead of what you ordered, just because the one taking your order has sloppy handwriting.
Bellagamba Bodegón is a somewhat perculiar concept, but well situated in Palermo Soho. You serve yourself and heat your pie or empanadas in the micro oven. They have very cheap deals for today's special, and on an average it is cheap for e.g. pumpkin pies. Fresh salads are for some reason much more expensive.
Medialunas, coffee, submarinos
Medialunas are perfect for getting a Buenos Aires feel to your stay, but your digestive system might not appreciate too much of these crescent-shaped bakeries. They are truly at their best freshly baked in the early morning hours.
Submarino is hot milk with a chocolate bar that you submerge into its melting destiny.
Un désajuno at La Viruta is three medialunas wich café con leche or a submarino. Perfect to take during the folclore session if you hesitate to get lost in the sometimes confusing structure of chacareras or zamba.
"La Puerta De La Felicidad" is one on the nicknames I heard for the bakery at Gorriti, next to a church between La Viruta and the avenue Scalabrini Ortiz. You can knock on the door on your way home after La Viruta has closed, and with some luck get to by medialunas straight out of the oven.
Ice Cream
Home made ice cream is quite expensive at the heladerías you see everywhere, but an essential part of your Buenos Aires experience!
If you want to buy a lot, there's often special offers certain days of the week for 1 or 2 kilos.
Faricci is a chain that gives you good value for your money, especially if you go for the tiramisu.
Freddo and Persicco are great but expensive.